Published: 3/24/2016
Updated: 3/24/2016
Applies to: Cayosoft Administrator 3.x or later
Symptom: Cayosoft fails to connect to Active Directory when the user attempts to configure a domain controller and may present an error dialog.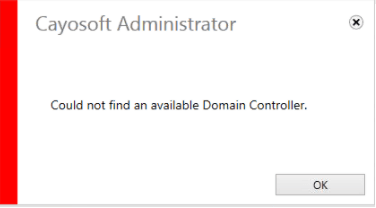 Probably Cause: The most likely cause is that the target domain controller is not running Windows Remote Management. Other causes (not covered here) are firewall problems and on the rare occasion antivirus applications.
Resolution: Enable Windows PowerShell Remoting on the Domain Controller.
On the Domain Controller, Verify the Windows Remote Management (WS-Management) is set to start automatically and is started.

Go to task manage > Services > Name = WinRM and verify the Status is running.
If the service is not running, open the Services console, right click WinRM service and choose properties - then set Startup Type to Automatic.

On the Domain Controller, Enable PowerShell remoting with the Enable-PSRemoting command.