Issued: January 6, 2016
Applies to: Cayosoft Administrator 3.x or later
---
Changing the logo at the top of the Cayosoft Administrator Web Portal

Open Windows File explorer on the server where Cayosoft Administrator is deployed.
Navigate to:
C:\Program Files\Cayo Software\AdminAssistant\WebAdmin\Content
Replace the file left_banner.png with a file that contains the desired logo
Logo file recommendations:
Transparent PNG format
Maximum size 180px x60px
Changing the Sign-on page for Cayosoft Administrator Web Portal
Open the Cayosoft Administrator Configuration Console
Navigate to Configuration > General > Web Interface Settings > Web Customization
Adjust the image displayed by changing the option titled Cayosoft web portal sign-in page background image.
Note: These images can be supplemented or replaced with customer images, by modifying the existing images in the product installation folder. The graphic files can be found here: C:\Program Files\Cayo Software\AdminAssistant\WebAdmin\Content. Be sure to use only compressed images so that image size does not degrade performance of the web page as it loads.
Changing Color Scheme of the Cayosoft Administrator Web Portal
Sign-on to the Cayosoft web portal.
At the top right of the web page look for the settings icon (small gear) to the right of the current user logon name.
The session customization panel will appear.
Select the designed color scheme from the list of available color schemes.
Click the settings icon to close the session customization panel.
Making Other Changes
Support Statement: Customers should understand and agree that this is temporary customization that from time-to-time need to be re-applied. It is also important that customers understand and agree that this customization is not meant to modify the way in which the Cayosoft Administrator Web Portal functions and should only be used to make changes a small portion of the text that is displayed on the home page. This customization is not Officially Supported by Cayosoft, but for customers with a valid Cayosoft support agreement, Cayosoft will provide a good faith attempt to answer questions and provide guidance.
Overview
The Cayosoft Administrator Home Page can be customized allow the customer to change the text show to something that is more appropriate for their organization. The area that can be customized is boxed in red in the following figure.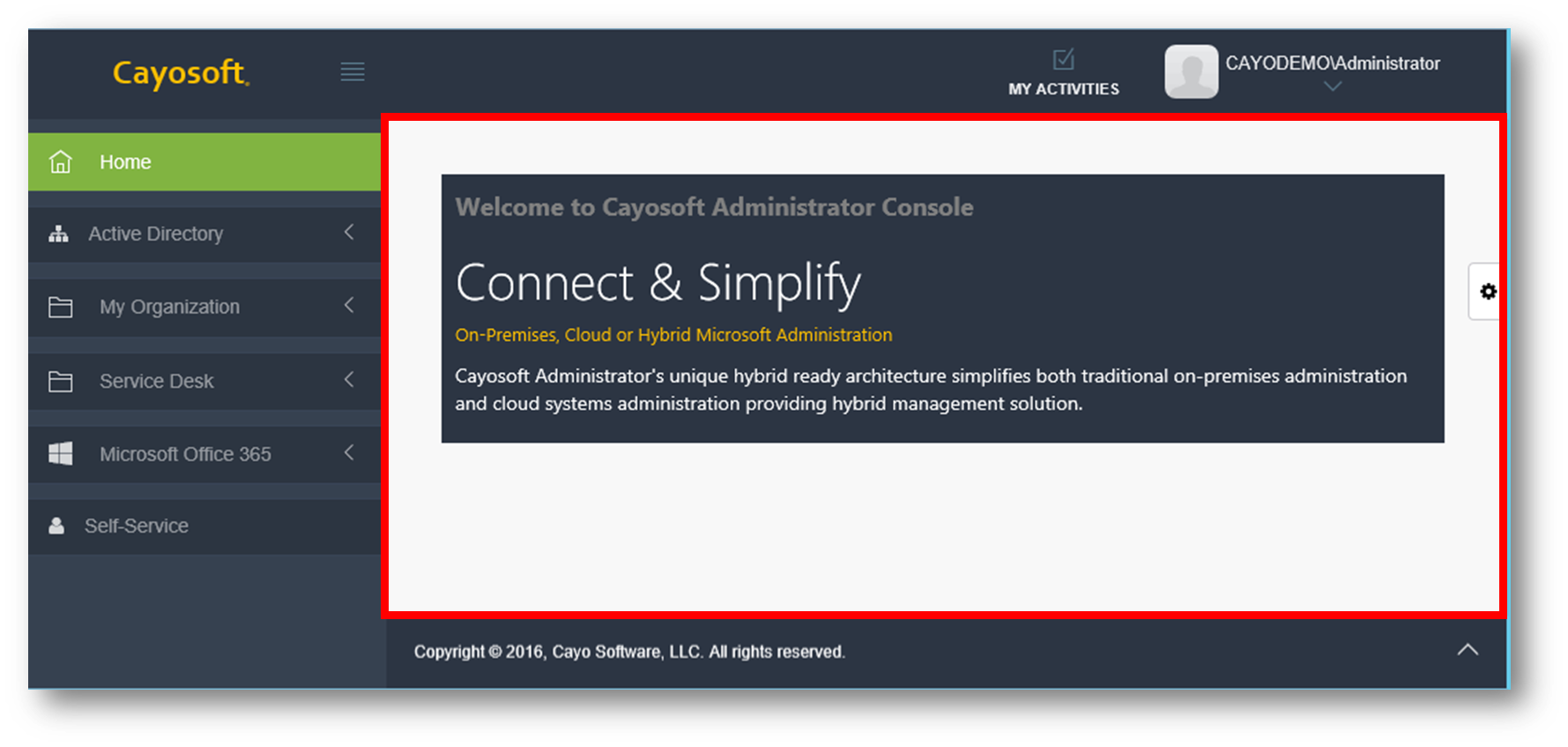 Important: Because this file may be updated during upgrades, it is important that customers expect that it may be over-written and the customization may need to be re-applied.
Modify the Web Portal Home Page Text
To modify the home page text you must carefully edit only a portion of the associated C:\Program Files\Cayo Software\AdminAssistant\WebAdmin\Scripts\assets\views\home.html file text - boxed in red in the following figure. Code above, below and including the SECTION Tags.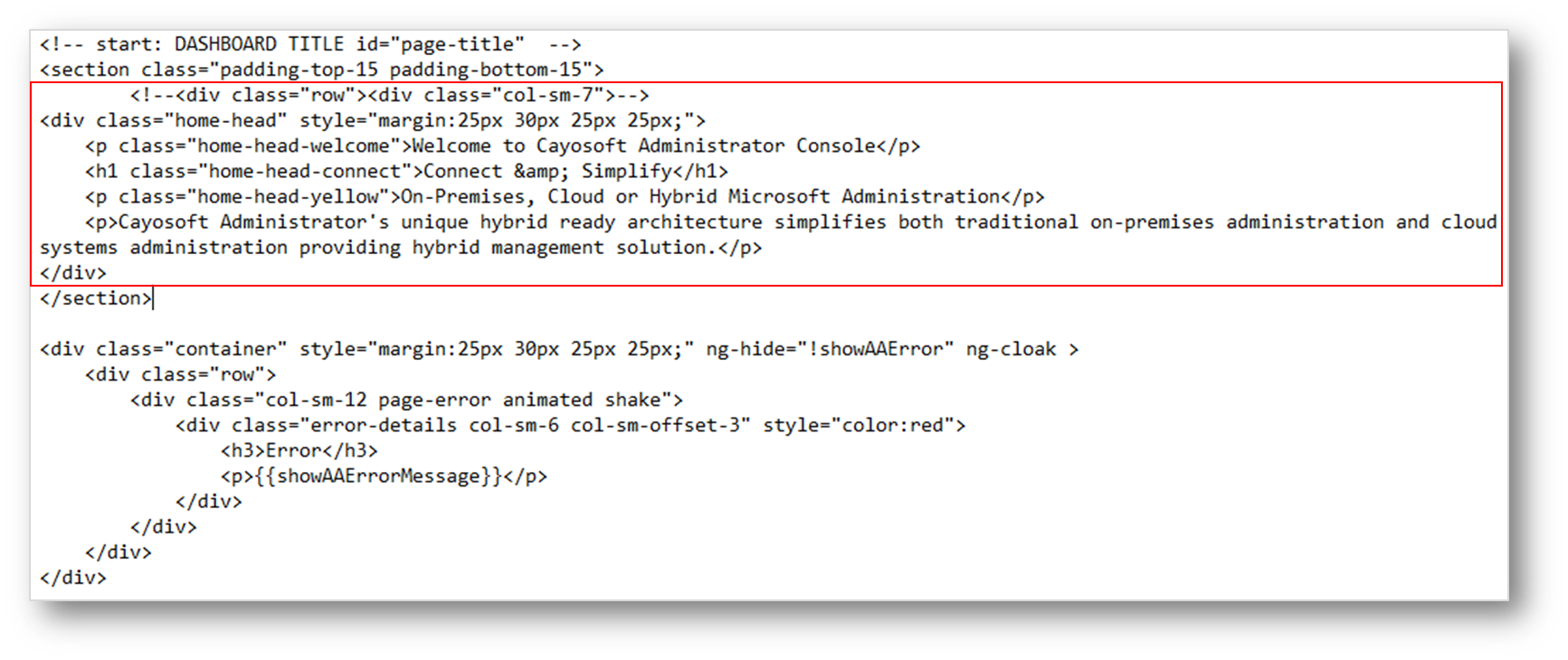 Suggestions and Restrictions
Before modifying the home.html file, create a backup copy.
Cayosoft plans to add functionality that will allow the customer to update the text on the home page without this procedure. If possible customers should wait for this functionality to be provided as an out-of-box feature.  Customers who choose to modify this page should have a thorough knowledge of HTML and limit changes to modify the text only.
Example after update: