Published: 3/28/2018
Updated: Current
Applies to: Cayosoft Administrator 5.x 
---
User Sign-on Problems 
Issue: User is presented with an Error and Logon Options
Resolution: The site must be added as a trusted site in the user's web browser.
Issue: User is presented with an Error and Logon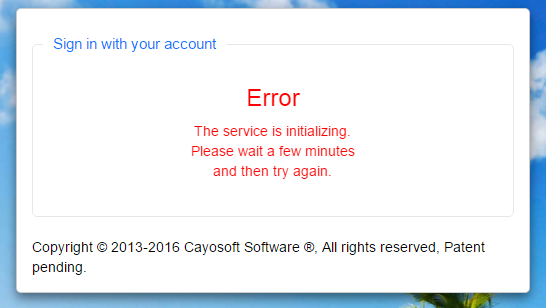 Resolution: Verify that Cayosoft Service is running or restart the Cayosoft Administration Service on the server to which the user is attempting to connect.
User Interface has missing components
Issue: Some Self-Service action commands are missing
Resolution: Verify the user has been assigned the correct roles and that the role delegates the missing command.
Issue: Some Self-Service forms have missing fields or features
Resolution:
1. Verify the user has been assigned the correct role(s).
2. Verify that the role delegating the action/form has not had Attribute Security applied that hides the missing field or feature.
My AD Groups
Issue: Foreign Domain User cannot be added to a group
Resolution: Active Directory requires that a group be of Universal type before members from other domains can be made members. Change the group type to Universal.
Issue: Add Members from file generates Webpage Error
Resolution: This issue is caused by Internet Explorer 9.x as it does not have the capability to upload a file without using ActiveX.
NOTE: Internet Explorer 9 no longer supported by Microsoft.  While a workaround is provided below, it is Cayosoft's strong suggestion that you upgrade your web browser to the latest version here.
Workaround: Allowing IE9 to use ActiveX scripting
Click the IE9 options icon at top right

Click he Security tab at the top
Click Custom level
Set Allow Scriptlets to Prompt
Set Initialize and script ActiveX controls not marked as safe for scripting to Prompt
Close and re-open the web broswer
The next time you use the Add Members from File command, you will be prompted to allow browser to access the file as shown below
Click Yes and the file name will be shown on the dialog box