Published: 09/06/2018
Applies to: Cayosoft Administrator 9.x or later.
Summary: Every Cayosoft rule and web action can send its results in email, so you can get rule output in a convenient friendly view. The default font in Cayosoft output emails is Tahoma, but you can change it to any other font you need.
---
How to customize font in Cayosoft Output E-mail for a specific rule
In this example, we will customize the font in the New User action.
In Administrator Console navigate to Home > Configuration > Web Portal > Web Actions > Active Directory > New User.
Go to the Action tab.
Expand the Post-processing section.
Select the "Send HTML Report" item and click Edit...
In appeared dialog scroll down and expand the More Parameters section.
Click the "..." button near the Css field.
Find the substring "font-family:Tahoma;" on the second line and replace Tahoma with any other font you would like to use, for example, Consolas.
Click OK button on Multiline Text Editor to close it.
Click OK button on Add/Edit Command.
Click Save Changes on the rule editing form.
Note:
If you use some text in quotas inside an email message, these quotas must be quoted - add s
ingle quotes before double quotas. For example, if you add an URL to your message, it should look like this: <a href=`"https://domain.com`">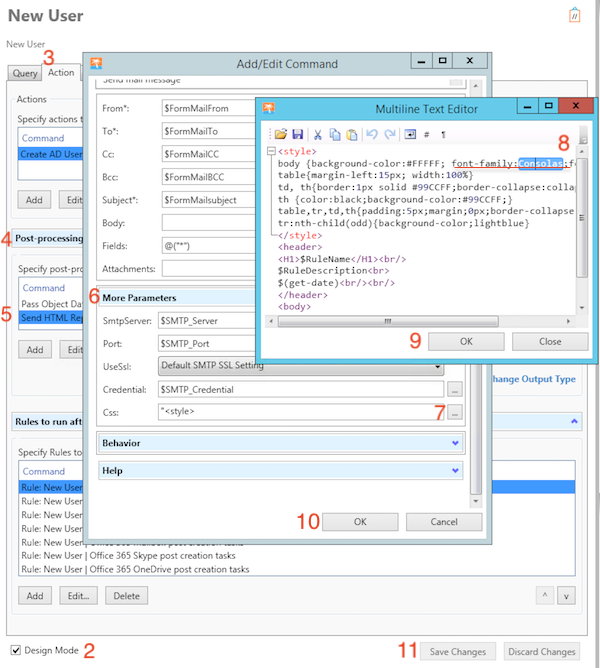 ---
Related Articles
Customizing an automation rule or web action output email – Cayosoft Help Center