---
In this article:
Note 1
: To find the SMTP server settings in Cayosoft Administrator Console please navigate to Home > Configuration > Settings > Email Settings (SMTP).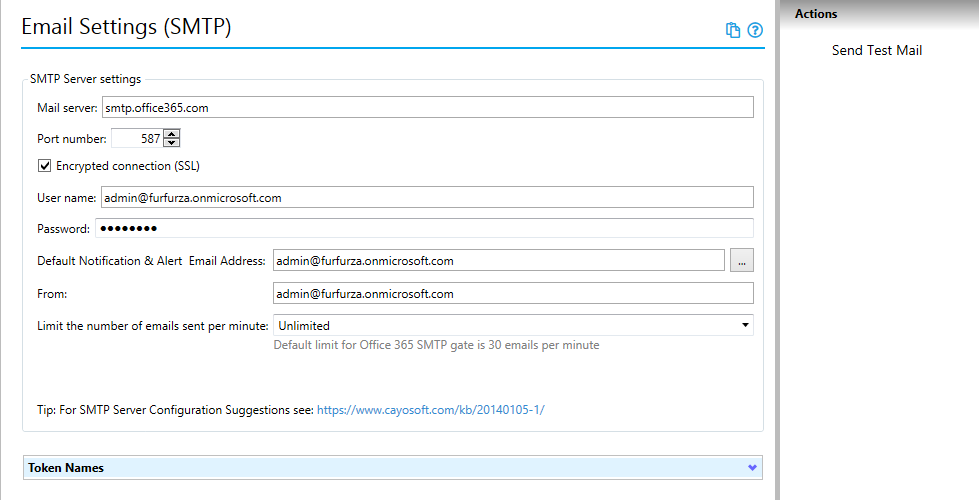 Note 2: Configuring SMTP settings is not mandatory, but is used when rules or actions send e-mail messages or e-mail reports.
Configure SMTP Email Connectivity
Cayosoft Administrator uses SMTP Settings to send messages and reports by email for rules that are configured to send messages. If you have a problem with your own SMTP Server, you can try Gmail or Office 365.
Locate SMTP Server Configuration
Open the Cayosoft Administrator Console

Navigate to Email Settings (SMTP)

Update the SMTP Server settings section
Test SMTP Configuration Settings
Verify the settings are correct

Click Send Test Mail

Wait for the success response
Use Office 365 or Google Apps as your SMTP Server
Set SMTP Server to smtp.office365.com or smtp.gmail.com.

Set SMTP Port to 465 or 587 (Office 365 requires TLS on port 587)

Check the Encrypt Connection (SSL) check box

Set the User Name to your the account that has permissions to send SMTP e-mail (Include the domain name such as @domain.onmicrosoft.com, @gmail.com or @domain.com)

Note 3: The specified account should have MS 365 license with Exchange Online service.

Set the Password to the account's password
Note 4: Unless you host your mail domain with Google, Gmail automatically rewrites the "from" line of all e-mails sent via their SMTP gateway to your Gmail address. Google will also override any Reply-To settings you are using in favor of the one in Gmail's web interface.
Use Exchange On-Premises as your SMTP Server
Set SMTP Server to the name of your exchange server

Set SMTP Port to 25

Check the Encrypt Connection (SSL) checkbox

Set the User Name to the name of the Active Directory account with the Exchange Permission needed to send SMTP mail from that server
(Include the domain name such as @gmail.com or @yourdomain.com)

Set the Password to your Active Directory accounts
Related Articles
---
How to send email from the custom account that is different from Default Notification Email Address
Troubleshooting SMTP server settings