---
Cayosoft Guardian User Interface Overview
Cayosoft Guardian user interface is optimized to monitor, find and rollback the changes in Azure AD/Office 365 and also in Active Directory on-premises.
Use Guardian Dashboard as a starting point for product configuration: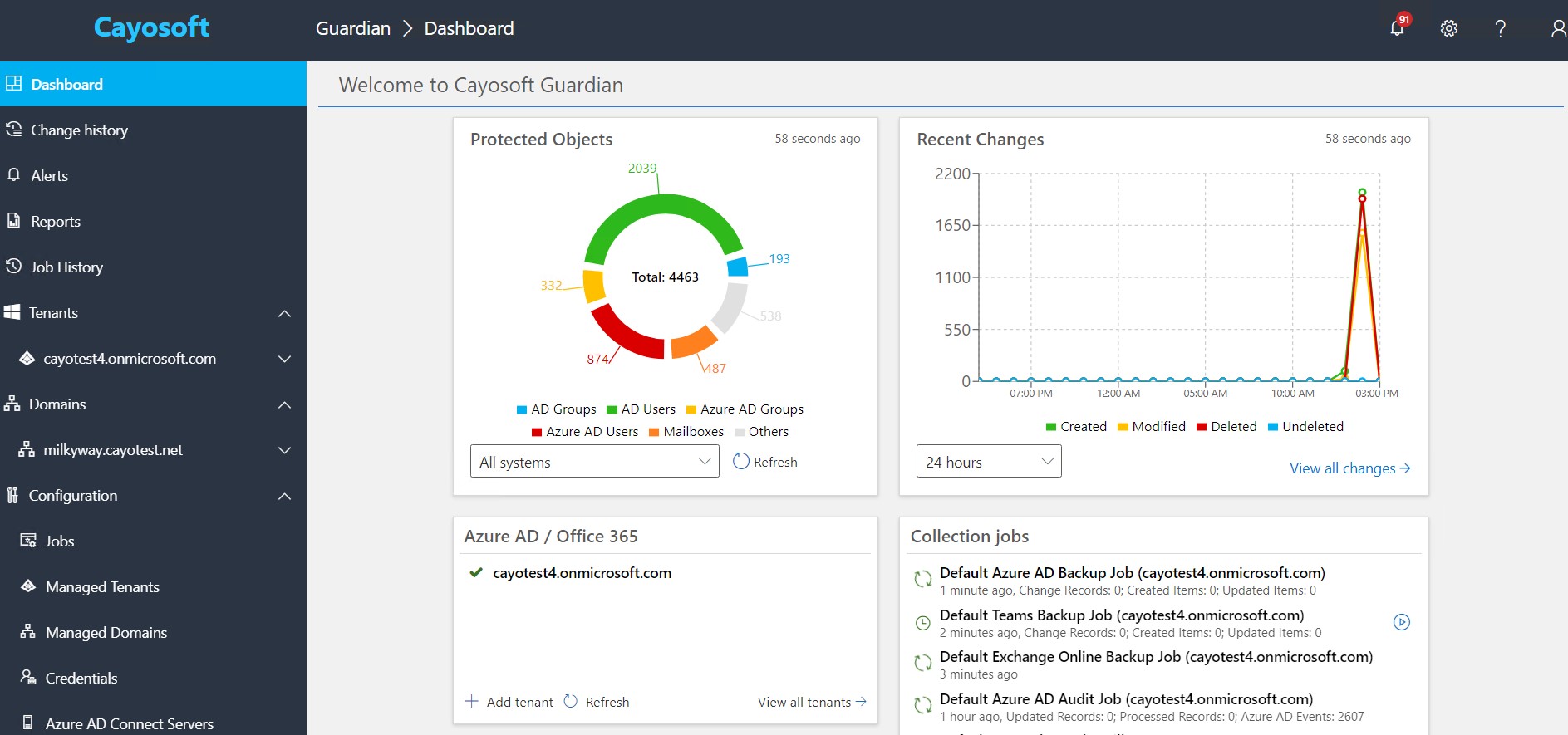 1. On Protected Objects diagram you can see the number of objects in the managed systems in which changes are now controlled by Guardian.
2. Recent Changes diagram shows the number of object changes performed in the managed domains and tenants for the specified period of time. Changes are divided by types:
Created
Modified
Deleted
Undeleted
3. In Azure AD / Office 365 and in Active Directory on-premises you can add tenants and domains which object changes you are going to control. Adding your tenant and domain immediately enables change monitoring and data backup for continuous protection against unwanted changes.
4. Collection jobs section has a list of backup jobs that are automatically created after a tenant or domain was added and Guardian started to collect changes. Jobs widget shows the current status of the backup, audit and other jobs.
Navigate to Change history to view and restore object changes.
Navigation pane

lies on the left side of the main window. It illustrates the main window with regards to its various sections and

helps users to easily move around the main window.

Grid is the main working area that displays all data such as lists of manged domains and tenants, object changes, alerts and etc.
Using Quick search field you can find the required object changes. For example, you can search by object name or by its properties.
The Commands allow performing different actions on objects in the grid.

Refresh - update the objects list
Properties - view properties of the selected object
Other commands depend on the selected section in the navigation pane. For example,

Restore in Change History node reverts the selected change history record.

You can use Filters to get data subset for viewing and analysis. Also, you can clear filtering and sorting and get the full list of changes.
Critical alerts are shown in case something important happened or went wrong.
Use About to get the link to Guardian Documentation and Support and to see the installed product version.
In Account Information you can see the currently sign-in user and perform Log-out to sign-in, using a different user account.
When you open object properties in Change History, you can see the following information:
Modified Properties tab with property name, old or removed value, and new or added value.
General tab has object name and type, backup time, change initiator.
Target Object tab displays properties and their values.
Alerts tab has the alerts list that are related to this object.
You can click Restore to revert the changes.