Published: 16/09/20122
Applies to: Cayosoft Administrator 9.x or later.
Summary: Cayosoft Administrator Console can connect not only to the local service but to any Cayosoft Administrator Service running on another computer in the network or on an Azure virtual machine. This article describes how to configure the Administrator Console so it can be used without local service running.
---
Content:
Software Requirements
Component
Notes

Microsoft .NET Framework 4.7 or later

No download is required for Server 2012R2 or later, just add the role.

To determine the installed version of Microsoft .NET Framework, follow the instructions provided in the Microsoft KB 318785.

Note: If the Cayo Admin Service version is 8.1.0 or earlier Microsoft .NET Framework 4.5 is required.

Microsoft Management Framework 5.1 or later

See Installing Windows Management Framework 5.1 article for installation instructions.

Remote Server Administration Tools (RSAT)

No download is required for Windows 8.x or Server 2012R2 or later, just add the role.

See Installing Remote Active Directory Tools (RSAT) article for installation instructions.
How to install Cayosoft Administrator Console
Administrator Console can be installed separately from the Administrator Service:
On the machine where you need to install Cayosoft Administrator Console run Cayosoft CD and click Client Tools Setup:


Cayosoft Administrator Console will be installed.
Check required ports
If the Administrator Console and the Cayosoft Administrator Service are separated by a firewall, the 7800 port must be opened. For details, please see this article: Required ports – Cayosoft Help Center.
How to connect to Administrator Service remotely
When you run Cayosoft Administrator Console it will show a Connection dialog where you can specify the server name or IP address where the service is running and select Active Directory credentials or Microsoft 365/Azure AD account in case Administrator Service s deployed in Azure Virtual Machine.
When you connect to Administrator Service using Admin Console if you connect as a Current user or specify an Active Directory account then Kerberos\NTLM authentication will be used. If you use Microsoft 365/Azure AD account then OAuth is used.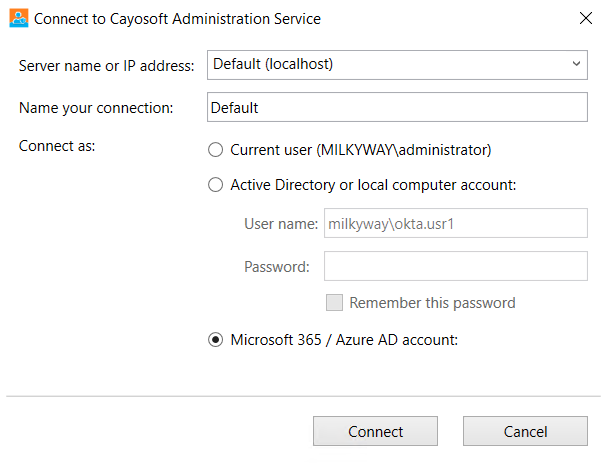 How to use Administrator Console remotely
Rules output reports are stored on the machine where Admin Service is installed. To be able to see rule output reports in the remote Admin Console, you should share the reports folder on the service machine and specify a new path in the remote Admin Console on the Reporting page. For details please see this KB article: https://support.cayosoft.com/hc/en-us/articles/360048670791.
Troubleshooting
How to reset Administrator Console connection settings
After you clicked on the checkbox 'Remember this password' on the Service connection dialog, the Administrator Console remembers your account settings. If you want to sign in as another user you need to clear these saved connection settings manually:
Close the Administrator Console if it is opened.
Open the folder on your PC, please replace '<user name>' by your actual user name first: C:\Users\<user name>\AppData\Local\Cayosoft.
Delete all subfolders from the folder.
Start the Administrator Console: Connecting dialog should appear.
---
Related Articles